http://www.work-master.net/201404814
translated by Brett Larner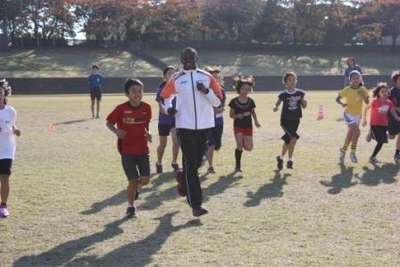 The
Monteroza Athletics Club
is pleased to announce that it will hold a "Monteroza Track School" session on Nov. 15 at Hachioji Municipal Junior High School #6 in Hachioji, Tokyo. Active both overseas and at some of the world's top-level meets, members of the Monteroza team will give demonstrations and lessons in sprint, hurdle, high jump and long jump events. Some of Japan's best athletes will show the practical how-to of what they do right before the very eyes and beyond the wildest dreams of participating elementary school students in the hope that the hands-on experience will inspire the next generation to take up the sport.
After the competition experience session, registered dietitians from Meiji Savas will hold a nutrition seminar targeted at students' parents. Meiji Savas provides nutritional advice and support to many of the country's top athletes including Monteroza decathlete
Hiromasa Tanaka
and will introduce the types of meals that elite athletes eat. Monteroza continues to strive to implement initiatives that will contribute to better health for all.
Translator's note: Monteroza operates the Shirokiya, Uotami and Warawara chains of izakaya bars and restaurants.
Its athletics club includes Kenyan distance runner and former Nihon University star Benjamin Ngandu, pictured above.