by Brett Larner
video highlights courtesy of race broadcaster NHK
Championship ekiden season wrapped up with Sunday's 20th running of the
National Men's Ekiden
starting and finishing at Hiroshima's Peace Memorial Museum. Strong start to finish, the
Saitama
team outran Japan's 46 other prefectures to take its first national title in 2:19:14, the third-fastest time in race history.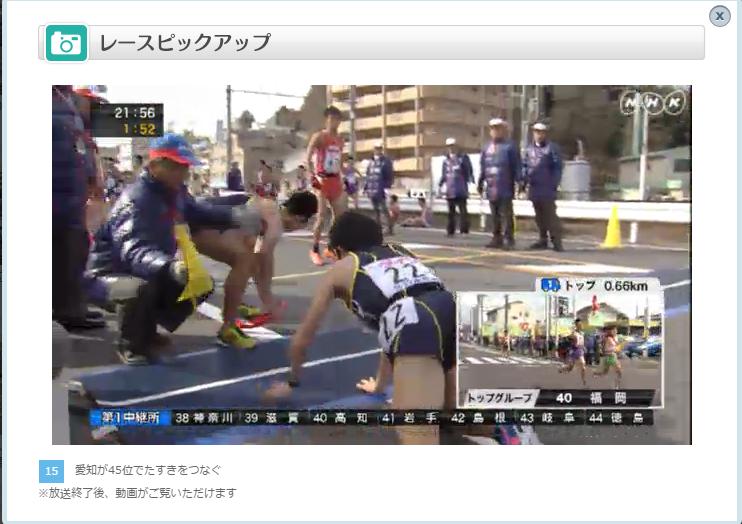 Saitama was right there from the start, opening runner
Ryoji Tatezawa
up against five sub-14 athletes but taking 6th on the 7.0 km H.S.-only First Stage in 20:14 just 10 seconds behind leader
Shota Onitsuka
(Fukuoka). Many of the pre-race favorites had trouble on the opening stage, defending champion
Nagano
17th, 2012-13 winner
Hyogo
18th, hosts
Hiroshima
just 32nd and powerhouse
Aichi
disqualified after its first runner
Atsushi Yamato
threw the tasuki across the line to second runner
Shota Ezomori
after falling repeatedly in the final 50 m while struggling to finish, a rare disqualification for an illegal handoff.
Fukui
was scored as a DNF when its opening runner
Yu Agehara
collapsed mid-stage, second runner
Seiya Hyoda
starting with the first white sash in Nationals history. Both Aichi and Fukui's remaining runners were allowed to run but their results were not counted in stage or overall standings, a major blow to Aichi whose team included Hakone Ekiden Fifth Stage course record-setter
Daichi Kamino
of Hakone champion
Aoyama Gakuin University
.
Saitama's
Ryu Hashimoto
took the lead on the 3.0 km J.H.S. Second Stage with an 8:39 stage win, forming a trio with
Shizuoka
and
Fukuoka
that stayed close for most of the rest of the race. Saitama's 8.5 km Third Stage runner
Yuta Shitara
set the course record on the New Year Ekiden's 22.0 km Fourth Stage earlier this month and came in to the National Men's Ekiden saying he was in the hunt for the 23:26 course record, but although he quickly dispatched Fukuoka's
Kazuharu Takai
he couldn't shake Shizuoka's
Shin Kimura
, a collegiate replacement for 5000 m and 10000 m national champion
Yuki Sato
who sat out with a case of the flu that is sweeping Japan. Kimura challenged Shitara all the way, the pair trading the lead and looking on track to run stage-winning times.
But behind them, Kumamoto's
Kazuma Kubota
, 2nd on Hakone's First Stage for winner Aoyama Gakuin University, hauled past the chase group to make contact late in the stage. Shitara and Kimura responded, but on the second-to-last corner Kubota surged and handed off to the 5.0 km H.S. Fourth Stage with a one-second lead.
Which promptly disappeared as Saitama's fourth man
Naoki Koyama
ran away with a 14:13 stage win to put Saitama 15 seconds ahead of Kumamoto. Its fifth man
Ryo Kozasa
was second-fastest on the 8.5 km H.S. Fifth Stage in 24:46, stretching Saitama's lead to 31 seconds. J.H.S. runner
Ryunosuke Saito
was 12th on time for the 3.0 km Sixth Stage, cutting Saitama's lead to 26 seconds, but anchor
Shota Hattori
was solid and controlled, keeping the lead at 24 seconds with a strong finish after
Miyagi
anchor
Kenta Murayama
closed to within 15 seconds with just over a kilometer to go.
Hattori crossed the line in 2:19:14, the third-fastest time ever at the National Men's Ekiden, to give Saitama its first national title. Murayama appeared in pain in the last kilometer with a hitch in his stride but held on to break 2:20:00, giving Miyagi 2nd in 2:19:38. Perpetual top 3 finisher Tokyo returned from a bad run last year for 3rd in 2:20:19 off a good run from anchor
Keita Shitara
.
Enigmatic ekiden specialist
Takehiro Deki
ran big again, winning the stage on time in 37:28 to move Nagasaki up from 15th to take the final podium position in 8th and surprisingly outrunning Hiroshima's anchor
Tetsuya Yoroizaka
, a 27:38 runner on the track, who likewise picked up 7 spots in moving from 20th to 13th in 37:33. Aichi's Hakone star Daichi Kamino ran the third-fastest time on the stage, 37:36, but his results were not counted in official standings due to Aichi's First Stage disqualification. Kamino and many of the other top runners in the National Men's Ekiden will next line up Feb. 1 at the Kagawa Marugame International Half Marathon before parting ways again to pursue separate collegiate and corporate agenda.
20th National Men's Ekiden
Hiroshima, 1/18/15
47 teams, 7 stages, 48.0 km
click here for complete results
Top Team Results
1. Saitama - 2:19:14
2. Miyagi - 2:19:38
3. Tokyo - 2:20:19
4. Gunma - 2:20:25
5. Kagoshima - 2:20:27
6. Fukuoka - 2:20:41
7. Hyogo - 2:20:45
8. Nagasaki - 2:20:48
9. Shizuoka - 2:20:59
10. Tochigi - 2:21:00
-----
DNF - Fukui
DQ - Aichi
Top Stage Performances
First Stage (7.0 km) - H.S. stage
1. Shota Onitsuka (Fukuoka) - 20:04
2. Fuminori Shimo (Mie) - 20:07
3. Hiroyuki Sakaguchi (Nagasaki) - 20:08
Second Stage (3.0 km) - J.H.S. stage
1. Ryu Hashimoto (Saitama) - 8:39
2. Yusuke Mukai (Kagawa) - 8:44
3. Shogo Matsushima (Shizuoka) - 8:45
3. Koshi Takagi (Nagano) - 8:45
Third Stage (8.5 km)
1. Masato Kikuchi (Hokkaido) - 24:04
2. Ken Yokote (Tochigi) - 24:07
3. Kazuma Kubota (Kumamoto) - 24:10
4. Shuho Dairokuno (Kagoshima) - 24:15
5. Yuta Takahashi (Tokyo) - 24:17
6. Hazuma Hattori (Niigata) - 24:24
7. Kota Murayama (Miyagi) - 24:26
8. Yuta Shitara (Saitama) - 24:27
9. Shin Kimura (Shizuoka) - 24:29
9. Shinichiro Nakamura (Kagawa) - 24:29
9. Ryohei Yamasaki (Tottori) - 24:29
Fourth Stage (5.0 km) - H.S. stage
1. Naoki Koyama (Saitama) - 14:13
2. Kazuya Nishiyama (Gunma) - 14:24
3. Tomoya Nakamura (Osaka) - 14:25
Fifth Stage (8.5 km) - H.S. stage
1. Hiroki Miura (Miyagi) - 24:32
2. Ryo Kozasa (Saitama) - 24:46
2. Kanta Shimizu (Gunma) - 24:46
Sixth Stage (3.0 km) - J.H.S. stage
1. Yuki Sakamoto (Hyogo) - 8:41
2. Yusuke Osawa (Gunma) - 8:48
2. Daichi Watanabe (Shizuoka) - 8:48
Seventh Stage (13.0 km)
1. Takehiro Deki (Nagasaki) - 37:28
2. Tetsuya Yoroizaka (Hiroshima) - 37:33
3. Daichi Kamino (Aichi) - 37:36
4. Kenta Murayama (Miyagi) - 37:48
5. Shota Hattori (Saitama) - 37:59
6. Yuki Matsuoka (Tokushima) - 38:04
7. Keita Shitara (Tokyo) - 38:07
7. Tsuyoshi Ugachi (Tochigi) - 38:07
7. Yusuke Ogura (Hokkaido) - 38:07
7. Chihiro Miyawaki (Gifu) - 38:07
(c) 2015 Brett Larner
all rights reserved